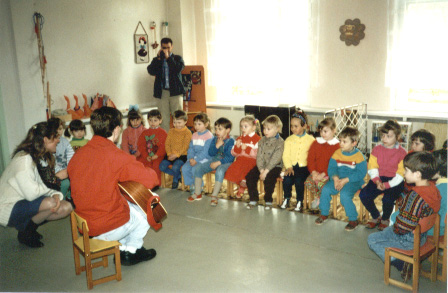 Mark Kelly Hall had a high school teacher who gave students some simple, but profound, advice: "Have something to say; say it." Mark believes he does have something to say, and has found that a song is a powerful way to say it—and a lot of fun to create and present.
KEEP IT REAL, KEEP IT SHORT, AND KEEP YOUR PUBLISHING
As a singer/songwriter, Mark's goal is to reveal the hope, humor, and meaning to be discovered in even the "commonest" of life experiences. His favorite quotations include "God is in the details" and "Be faithful in the small things" (another favorite is "Better late than never"—but let's not talk about work habits here). He believes the best approach to songwriting is to apply imagination and solid truth to real life, to be honest and vulnerable while avoiding emotional exhibitionism, and to master songcrafting principles without being a slave to conventional expectations. He also favors a nice calypso rhythm, when he can get away with it. The resulting performances are a unique combination of entertainment, artistic endeavor, and affordable therapy.
NUTS & BOLTS
Mark generally does a solo acoustic performance, singing and playing guitar, often mixing in a few 60's & 70's covers with his originals. His style might be described as folk/pop with a touch of country blues—think "Jim Croce, with an edge," or "Dan Fogelberg, with fewer codependency issues." The mood of his presentation ranges from congenial (with humor that is usually intentional) to reflective, with occasional bursts of intensity.
VITAL STATISTICS
Mark was born in Chattanooga and brought up in nearby Cleveland, Tennessee. He attended Bradley Central High School, and now enjoys serving as webmaster for his class reunion website, partly because it has helped him feel he's contributing to his fellow alumni, but mostly because the term "webmaster" implies a certain aura of wisdom and power. He graduated from the University of Tennessee, Knoxville in 1987 with a B.S. degree in Communications. His education is ongoing, though informal; he says "since broadcasting was my major, I consider watching TV 'post-graduate work.'"
BEEN THERE, DONE THAT
Since his high school years, Mark has done volunteer and professional church work, part-time and full-time, and has taken his music with him. His travels have put him in front of a wide range of audiences, in the Northwest, Puerto Rico, Hawaii, San Francisco, Harlem, Las Vegas (it wasn't exactly the Sands Hotel), and Minsk, Belarus.
ON THE HOME FRONT
Mark has performed in a variety of settings, from coffeehouses to clubs to church group retreats, including some of the top venues in Chattanooga. Among these, his favorite experiences include repeated appearances at the Riverbend Festival, the Fall Color Cruise Festival and the KUDZU Festival. He was nominated for the 2000 "Acoustic Songwriter of the Year" award by Chattanooga Independent Artists.
WHY DID GINGER PACK SO MUCH FOR A THREE-HOUR TOUR?
Mark's songs are flavored by a variety of influences, including a lifelong fascination with American pop culture. As a Bible-belt Southerner, Mark is also attentive to the spiritual undercurrent of everyday life. Some of his songs address these issues directly, but his ideal is to present an image or tell a story and let the truth speak for itself.
WRITING IS REWRITING…AND REWRITING…AND REWRITING…
Mark continues to develop his songwriting craft, learning what he can and sharing with other writers what he has learned. Through the years he has enjoyed the education he has received and the friends he has made attending songwriting seminars such as those offered by the Nashville Songwriters Association International and the Gospel Music Association. His further involvement with NSAI includes stints as coordinator of the NSAI workshop in Chattanooga and as a full-time staff member after moving to Nashville. He continues to enjoy meeting other people who believe "it all begins with a song," and has been thrilled to take opportunities to share what he has learned by helping lead seminars in South Africa. He also enjoys writers' nights, which can be as instructive as they are affordable.
ARE WE THERE YET?
As he looks to his future, Mark says "My goal is to make the most of the gifts I've been given, writing and performing whenever and wherever I can, as well as having my songs recorded by other artists. I hope to reach as wide an audience as possible, and still offer something of substance and significance for each listener."
Click here for a list of performances past.